24 Hour Fitness Customer Service: Benefits for Your Gym
Do you wonder if it's the right moment to offer members a 24 hour fitness customer service solution? 🤔 Do you dream of having a team of superheroes to handle all your fitness dilemmas during the day and night?
It might seem like a big undertaking, but in fact, it's not as challenging as it sounds.
Definitely, your gym-goers will thank you for bringing in the ultimate fitness problem-solvers into your fitness studio. So, are you ready to learn more about it?
But before we get straight to the benefits of customer service…
How to provide 24 hour fitness customer service?
Providing 24/7 customer support might be daunting – sitting in the middle of the night in front of your desk or working overnight at the gym's office. But it does not have to look like that. And it doesn't have to be daunting, though.
The first step is to provide a combination of in-person and virtual customer service support. It might be done via a live chat via phone.
On top of that, implementing gym management software can make it easier to provide 24-hour support. For example, members might access information, book classes, and make payments at any time on their own.
Don't be afraid to take the leap and offer round-the-clock support for your members – even if it seems challenging, the process is easy, and the benefits are definitely worth all the hustle!
Benefits of 24 hour fitness customer service
OK, time for the benefits of 24/7 customer service!
#1 Positive gym experience
Who doesn't want to have the chance to speak to the customer support team, even in the middle of the night? No more waiting till the daytime.
It's possible to resolve problems or get assistance with any concern your gym members may have.
However, sometimes it is not only about minor struggles. Bigger issues like:
billing,
equipment malfunction,
member cancellation policy,
or not being able to enter the building if your gym is available 24/7,
they all might occur at nighttime as well. So, when there's always someone who is ready to help, gymgoers will undoubtedly be thankful.
#2 It's convenient for members
It's just simply convenient! Life can be hectic, and gym-goers need support that matches their schedules. Customer service staff available both online and in-person is an ideal solution for members to get the guidance they need anytime and anywhere.
Whether they prefer to chat online, call or visit in person, make your friendly support team always available there to be of service.
What's great, with this level of convenience, sport-lovers may stay focused on their fitness goals. No more worrying about any setbacks.
#3 Better insights into customer needs
Being able to help is insightful as well. So why not take advantage of that? After chatting or talking with customers, encourage them to leave feedback. Any feedback type is super valuable. It could be both new equipment suggestions and whether or not the gym showers need extra scrub.
However, the more detailed opinions, the better. Ask them what they are looking for in your services and products (if your gym provides them) and what they would change in your group training sessions. This information will surely let you make better decisions about your place.
Don't ignore feedback. Make some adjustments, and see how your customer satisfaction score soars! 🚀
#4 Immediate help in emergency situations
Customer service is not only about answering questions at odd night hours. It's primarily about being for members when they need you the most.
For example, when someone feels unsafe or intimidated by the other person during working out or slips and falls while using the equipment. We never know what may happen, and you need to prepare for all scenarios. Once that happens, you'll be ready to react and support accordingly.
Not only does this enhance customer loyalty, satisfaction, and trust, but it also shows that you care about the well-being of your customers.
#5 Support with equipment maintenance
Sure, it's great to have someone to talk to when you have questions about your membership cancellation process or need assistance with a machine. But it's essential for equipment maintenance as well.
It's no secret that gym equipment is put through a lot, and regular maintenance is critical to keep everything in top condition. Customer service always supports gym-goers with reported issues they encounter with the equipment. Whether it's a broken treadmill or a malfunctioning weight machine, at any time of day or night.
Staff can quickly respond to the problem and ensure the equipment is back up and running smoothly as soon as possible.
#6 Reduced customer churn
Let's talk about customer churn – that dreaded phenomenon where customers disappear faster than those gym paper towels you keep in the corner. But there is no need to worry!
One way to minimize customer churn is through top-notch customer service. When a sport-lover feels frustrated or dissatisfied with their experience, a friendly voice on the other end of the line can really make a difference. Besides, everyone appreciates a little extra attention.
It doesn't matter if you are answering gym policy questions or helping members navigate the equipment, or showing where the showers are. Making your gym members feel important starts with great customer service.
#7 Better communication
Speaking of communication – did you know constant customer service may improve keeping gym members engaged? Send them birthday wishes, discount codes, and event reminders.
And thanks to keeping in touch with them (for example, with email communications and sending personalized messages), you shorten the distance between your a bit shy members.
And some good news here. You don't need to do it manually, and you don't even have to remember about it. How? By using tools for automating communication (WodGuru is one of them).
As a result, you keep gym-goers informed about everything from class schedules to upcoming events via email updates. You'll have more time to focus on running your business (and your bicep curls as well). 💪🏻
OK, communication can indeed be a bit tricky sometimes. But with the right tools in place, you can streamline the process and avoid any potential misunderstandings.
#8 Boosted members' engagement
How might 24/7 fitness customer service boost members' activity and engagement? In many ways. Firstly, a potential member and a loyal user know they can ask about anything as soon as the question arises in their heads.
Have you ever been reminded about something important to do but decided to postpone doing it? And as a result, you forgot about it completely? Relatable?
Well, it may be the case of people interested in sports asking about training classes, membership, or any other matter. Then, with problem solvers close at hand, customers will get the questions answered and you lower the chances of going bankrupt.
#9 Improved resolution of complaints and issues
Customer reviews of fitness places often touch on complaints and whether they're resolved quickly or not. And, when available during the day and night, gym assistants can resolve customer service issues on the fly.
Results? Happy customers, increased loyalty, and stronger customer relationships. You'll see gym members' appreciation in your reviews for sure. No more dissatisfied customers.
So, if you want your fitness place to be the talk of the town (in a good way), ensure you have 24/7 customer service available. Nothing ruins a workout like a broken favorite cardio machine or a membership card issue that goes unresolved.
Did you know WodGuru's superpower is customer service? Take a look at clients' testimonials and find out first-hand.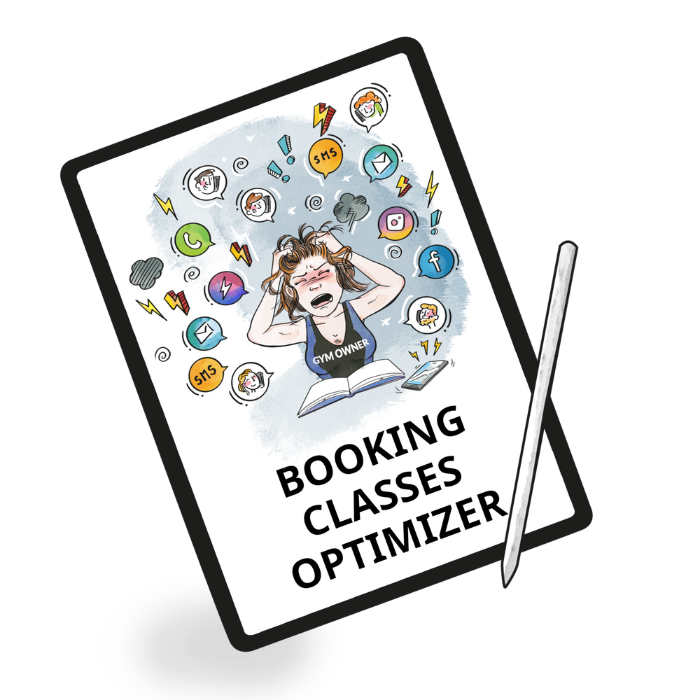 🚀 Free ebook!
Booking Classes Optimizer
This free ebook will help you get back all the time you spend on signing up your gym members for classes every day.
*Only for gym owners!
📥 Download
---
#10 Good brand recognition
All gym clubs seek to have a strong brand identity. And reliable customer service can make it even stronger. That's right, nothing screams "we care about our customers" more than being available around the clock.
When your members are impressed with your level of customer service, they're more likely to spread the word and recommend your gym to others. It's like free advertising, but better because it comes from grateful customers who appreciate your dedication to their needs.
Not convinced yet? Let's talk about marketing, then. 👇
#11 More marketing opportunities
Having dedicated customer service specialists ready to assist might lead to some seriously awesome marketing opportunities.
How?
Let's say a member has a question about their membership, and your 24/7 customer service team is there to support them with a quick and friendly response. That member is now feeling grateful and appreciated, which means they're more likely to give your gym a shout-out on social media, leave a positive review, or even refer their friends.
And all of those actions can lead to more exposure and more potential customers. 🤩
Moreover, impeccable customer service makes people stick around and become long-term customers. So empower your marketing efforts, and include 24-hours customer care in your strategy.
#12 Better than competitors
Last but not least – 24/7 fitness customer service may be the ace up your sleeve. Make yourself stand out from the crowd of other gyms and fitness facilities. When your fitness club is open for business all the time, you're already ahead of the competition.
For instance, if a potential customer makes a generalized comparison of your place to another fitness club, and they see that your gym offers 24/7 customer service (while the other does not), who do you think they'll choose? Most probably, yours. 💪🏻
Read also:
📰 Empower your fitness studio with the best software for gyms
📰 Member software: what can it do for you?
📰 13 ways of minimizing the monthly cost of running a gym
Use WodGuru to provide gym members with 24 hour fitness customer service
Use a platform to handle some tasks for you when handling customers' issues. Meet WodGuru!
It is gym membership software for yoga studios, health clubs, martial arts schools, and other sports-related places. Ok, but how may the software really help provide customer service?
It is equipped with many features that will automate your work. Some of the tasks will not require even looking at them.
So, you gain valuable time that you can spend serving members.
Let's take a look at what WodGuru takes care of.
WodGuru features for even better 24 hour fitness customer service
Why not automate your tasks and get rid of the desk work you're doing? Sounds tempting, doesn't it? Make it happen with WodGuru capabilities. ⬇️
Automatic signups
Let your members sign up for classes themselves. Gone are the days of showing up to a favorite class only to find out it's already full. Has it happened to you as well? If yes, you probably know how frustrating it is. But not anymore with automatic signups.
Mobile app
A membership software app is a game-changer! Your clients are going to love the freedom it provides. They can book their favorite club workouts, explore all the fantastic services and classes, and even pay for everything online – no need to queue up at the front desk anymore!
Besides, tracking progress and workout history is at their fingertips whenever they are and whatever they're doing.
Automated notification
Don't bother sending notifications about upcoming classes, discounts, events, or anything like that. Instead, set up email reminders you want to send and let the magic happen!
Also, you can use WodGuru for marketing emails.
Website integration
You don't have to type the changes twice because WodGuru integrates seamlessly with the flexible schedule on the website. Gym members are always updated about their favorite classes.
Reception work
You'll love how easy and intuitive it is to care for your customer and gym. With the WodGuru system, you can sell products, issue invoices, run storage, integrate with gym card readers, manage discount codes, and even develop a gym recommendation system.
It is a seamless solution that integrates QR codes, card readers, and POS systems flawlessly. Say goodbye to any technical hiccups or compatibility issues.
Finally, support your employees as much as you can. Working night shifts is a challenging task. Here is what you can come up with to thank your customer support team:
employee discounts,
financial perks
extra health insurance
or anything you find useful.
Provide 24 hour fitness customer service today!
Maintain that your gym is the go-to destination for fitness enthusiasts who demand the best by providing assistance all-around the clock!
Now you get the bigger picture of why it's worth making your gym a place where anyone can get assistance at any time of the day or night. There're many benefits to it. And if you feel like you need some sidekick to your business, consider it as the next step to take.
And speaking of sidekicks, make your life easier with membership management software. Even support people need support! Join WodGuru and take the hassle out of membership work.