8 Ways to Boost Member Activity with Gym Software
Using gym software is one of the ways of boosting member activity. However, you must choose the right tool to do it effectively. Do you want to know how to increase member engagement without hassle? Are you looking for fitness club management software that your members will enjoy using?
We've got your back.
Business owners need to keep up with sports trends and show their customers what they can get from their gym and fitness services.
So let's see how fitness management software might change your life.
What member activity?
Member activity might mean a wide variety of things – from liking your post on social media to prolonging gym membership. It is the members' level of engagement in the offerings and services a gym provides. The more engaged gym goers you have, the more satisfied they are.
And as a gym owner, you should keep the engagement up, or at least on the same level. Managing your social media will help. Review your publications and check if they are target-group-friendly.

Moreover, ensure that your recipients are sufficiently informed about upcoming events, for example, temporary discounts. You will easily do this with automated notifications.
For studio owners, it's essential to encourage their club members to interact by moderating discussions and personalized SMS or email campaigns.
What is gym software?
Software for fitness business automates daily operations and helps gym owners manage and organize tasks in their business field. Such a tool offers payment automation, easier scheduling, or email campaign management.
It supports communication between both members of fitness clubs and employees. In addition, many pieces of software provide integration with websites to guarantee the proper flow of information on both systems.
What's more, members can register online and book classes which saves their time thanks to instant access to the gym or a yoga studio.
Fitness studio software aims to improve the quality of your work, facilitate time management and increase the activity of club members. Also, you can increase efficiency by eliminating repetitive tasks.
How to boost member activity with gym software?
After a brief analysis of what member activity and gym management software are, we can move on to eight steps that will help you increase your users' engagement. So let's jump into the details.
#1 Offer development opportunities
Propose a variety of classes and training programs to cater to different interests and goals. Fitness businesses with more development options tend to attract more clients.
For example, you can divide the gym's activities into several segments, such as a muscle strengthening program with equipment, body & mind activities that offers pilates or yoga classes, exercises in the pool, or a personal training session.
If you have doubts about whether the customers will be interested, you can create a survey and ask members via email.
#2 Motivate discussion
Encourage social interaction among members by setting up a member forum or chat group within the gym management software platform. So, you can create your community, a safe place where customers can come back to develop their passions and interests or relieve their emotions with physical activity. It's an excellent way to improve customer experience.
Plus, thanks to the forum or chat group, they can share their thoughts on the current quality of the fitness club, which can also tell you what areas are thriving and what may need improvement.
#3 Notify about the news
Use software platforms to send reminders and notifications about upcoming classes, events, and challenges. Be sure that club members are up to date with current news. Otherwise, they may miss essential courses that, for example, have been postponed to another date.
A comprehensive solution enables you to send reminders via email or SMS. The awareness of customers about what is currently happening at the gym is crucial as well. It allows them to feel like a member of this community.
#4 Help in the fitness journey
Integrate fitness tracking and goal-setting features into the software to help motivate members to stay active. Probably many of your members have good motivation for change with low self-doubt.
Thanks to the system informing members about the progress stage, you can monitor their commitment and minimize their concerns.
#5 Set up a reward system
Offer incentives and rewards for members who consistently use the software and meet their fitness goals. Why? The rewards system drives members' motivation and allows them to focus on small steps leading to positive results.
#6 Emphasize health
Use the gym management platform to provide personalized training and nutrition plans to help members achieve their goals. Getting the best diet and workout plan on their own can be challenging.
Fitness professionals should offer them additional help to support a pleasant and healthy process, for example, weight loss tracking or other key metrics.
#7 Make it public
Fitness club software helps to encourage members to share their progress and accomplishments on social media or through the gym software. Nowadays, turning your back on social channels would be a big mistake.
They're a way to reach more users and encourage them to do sports. Your clients can share their gym progress through social media or website posts. With that, you will highlight the most engaged people and make them feel important.
#8 Do it online
Use the software to offer virtual training, daily workouts, and classes for members who couldn't come to the gym. Many gym goers may have busy work schedules, children, or a variety of educational activities that make it impossible for them to attend classes in person.
The online solution can help members take care of their health and body. In addition, it's an opportunity to attract new customers with an online presence.
Selecting gym membership software: What should you look for?
If you have no idea what to look for when choosing software, here are some key features that each software should have.
Straightforward operating
Look for software that is easy to use, both for you and your staff and members. Your employees will be able to learn the software's operating system quickly this way, saving you time.
Then, communication is more transparent, and activities will be precise and easily accessible.
Adequate functionality
Check that the software has all the features you need to manage your gym effectively, such as class scheduling, member billing, and attendance tracking. Also, don't forget about additional features.
You'll find it easier to manage your time and other trainers with the right scheduling tools. For example, if the gym is small, you can easily adjust the schedule so that classes do not overlap.
Moreover, examining class attendance might help you to analyze your members' progress and assess their commitment. On the other hand, member billing will keep your finances under control and prevent unpleasant situations, such as long payment delays.
Necessary integrations
Consider whether the software integrates with other systems, such as your point-of-sale or website. Otherwise, it may cause all kinds of errors, e.g., differences in data – the website will display something more diverse than you expected. It misleads the customer, and consequently, your reputation might suffer.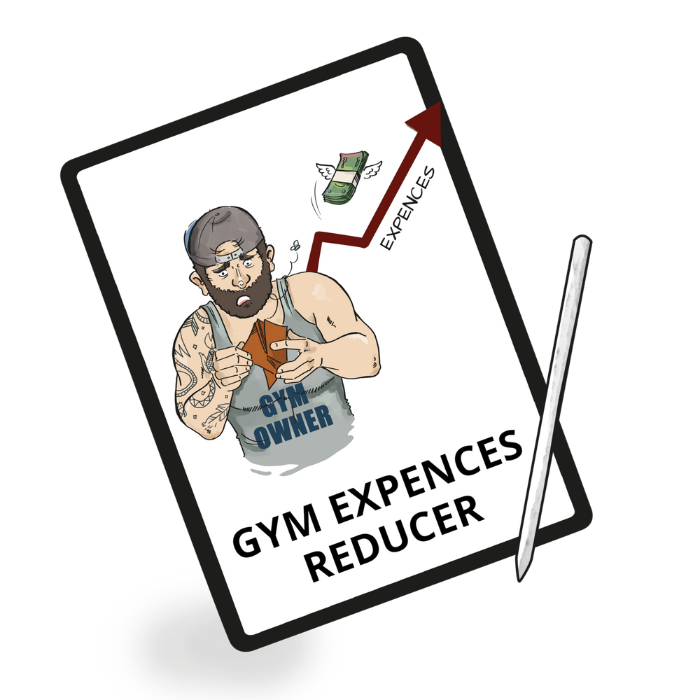 🚀 Free ebook!
Gym Expences Reducer
This free ebook will help you regain control of your business expences!
*Only for gym owners!
📥 Download
---
Affordable solution
Determine your budget and look for software that fits within it. Don't forget to consider ongoing costs, such as subscription fees and support costs. Remember that no one likes to overpay for things that won't meet their expectations, even if a tool offers a wide range of features. Pay attention to the software's capabilities and whether they match your needs.
Good customer service
Look for a software company that offers good customer support, so you can get help when you need it. For instance, if your website stops working properly, you need to contact the people who are responsible for resolving the problem as soon as possible. If not, you're missing out on potential new members.
Supported development
If you plan to grow your gym, ensure the software can accommodate your future needs. Compare the features offered by the tool and think about how you can use them in everyday tasks. In addition, it's worth checking whether the software is updated regularly, allowing you to develop.
Sufficient protection
A comprehensive solution is a tool that takes security seriously and protects your and your members' data. There is nothing worse when offering services to customers than accidentally sharing their data. So be sure to choose software with advanced security features.
Mobile app
Check if the tool equips you with the mobile app version. Nowadays, users increasingly use smartphones to sign up for services. In this way, you increase availability and credibility on the web. What's more, members easily schedule classes and process payments worldwide.
CRM system
And last but not least, check if the club management software works like your own customer relationship management system. Why? Thanks to this, you will remember about activities related to club members, e.g., birthday discounts or special discounts.
Fitness studios don't have to worry about administrative tasks anymore. Additionally, it allows you to create personalized email campaigns and update member activity and status.
Learn more about how to pick a health club management software.
WodGuru: your gym membership management software for boosting member activity
WodGuru is cloud-based membership management software that enables you to increase the involvement of your members. It might provide the best possible experience while using your services. Also, synchronize appointment scheduling with Google Calendar to stay organized.
💪🏻 The tool offers you a mobile app version from which you will quickly check the availability of each member and appointment history. Gym Goers can make payments and online bookings for selected classes with a few clicks.
💪🏻 We emphasized the importance of communication between your gym community. Therefore, WodGuru provides automatic notifications through SMS or short announcements you can send by the app. Besides, email marketing with WodGuru is a piece of cake.
💪🏻 The comprehensive software allows you to properly manage discount codes, invoices and online payments.
💪🏻 Additionally, if you want to expand your brand and sell both products, diet plans, or training plans outside of services, WodGuru will help you manage it. Learn more about how to expand your brand with management software.
💪🏻 Gym owners don't have to worry about system integration because the software provides effortless integration with your website, supporting management and proper information flow.
💪🏻 Software for gyms allows you to redirect class schedules or news to social media, making it possible to moderate discussions and encourage members to interact.
💪🏻 Also, your members can choose between two membership types: time-based and session-based. If they need to change it, each membership is fully editable. Then, you will easily examine their performance metrics and class history.
💪🏻 If you're considering introducing an online training option, see the WodGuru guide for more information on adding training videos and live streams. Learn more about how to embed multimedia with member management software.
WodGuru offers a demo version that allows you to check out provided features to clear your doubts. The price starts from 1€ per member monthly. But the maximum price is 119€ even if the number of users is higher than 119.
Grow your business with the right gym software
Make managing membership easier and, most importantly, more effective. Focusing on your audience's involvement improves communication features and gives a higher chance of gaining new customers.
Thanks to cloud-based software that automates actions (such as admin tasks), you have better gym insight, and you will track workouts. Also, better class management and payment processing are no longer challenging tasks.
It's a fantastic solution for yoga studios, martial arts studios, gyms, and other spot-related places.
With a membership engagement platform, you can:
build long-term customer relationships,
create a community,
organize online classes,
measure class performance with detailed reports,
improve client experience,
boost attendance rates,
and more!
So, don't wait. Register here and try out the WodGuru free trial while enjoying a user-friendly interface with advanced features. Check out an all-in-one solution.