How should I choose a system to manage my fitness club (or other sports facility)?
The never-ending list of administrative tasks for fitness club owners and employees takes up a lot of time and commitment each month. However, managing your own business does not always have to be time-consuming and require a lot of activity and effort from your employees. The time saved should be used for effective management: club development, company marketing, acquiring new customers and strengthening relationships with club members.
A suitable fitness club management system is an excellent solution. It is an effective way of facilitating the majority of tasks and employee duties related to the back office of the company.

In the following content, we will try to answer the question: how to choose a fitness club management system? We will take a closer look at the available functionalities of such a software and the benefits that its implementation can bring to your business.
---
How much does a fitness club management system cost?
The systems available on the market vary their pricing depending on the functionality, type of support, number of staff, members and locations available to the club. Many systems offer several packages with different modules and functionality. The wide range of services gives you the opportunity to choose the software that your club actually needs. It is worth remembering that a club management system does not have to be expensive or complicated to use.
So what should a favourable offer and price for a sports facility management software look like? Here are some valuable tips:
Access to a transparent offer with prices without additional (hidden) costs.
Pricing offer tailored to the club, taking into account the company's scale and financial capacity.
Reduction in the initial cost of the service, enabling a favourable start and gradual implementation of the management system in the club.
Free review of the system on a trial basis and testing of the software (free demo, free club account set-up).
Possibility of periodic use of the system at no cost or obligation.
Possibility to benefit from a free presentation of the software by a team of specialists.
The offered price should reflect the actual benefits of using the club management system.
Remember, the support for the system should always be free and easily accessible.

Some systems charge a fee for help with installation and system configuration.

In other words – the company creates an unintuitive and hard to follow system and in addition charges you for explaining it.

That' s not fair! In such a situation, a red light should switch on.
The price for the system is calculated on the basis of the number of active club members. 1 club member equals to 0,79 € net per month (e.g. 20 club members equals to 15,8 € net per month, 100 club members equals to 79 € net per month).
When the number of active club members exceeds 150, the price stops at 99 €. This is a fixed amount regardless of the increasing number of club members.
There are no limits to the use of the system.
The monthly price is determined by the current number of club members. The price reflects the actual benefits of using the software.
All available functionalities at one price, without any additional costs.
The only additional paid options are the club card reader module included on request..
Free access for accounts not exceeding 10 club members – without time limit.
Free of charge one month access to the system from the actual start of use – when the number of club members exceeds 10.
Free data transfer from another system and continuous free telephone / chat support available in the platform.
Check the following article, too:
How much does a club management system cost?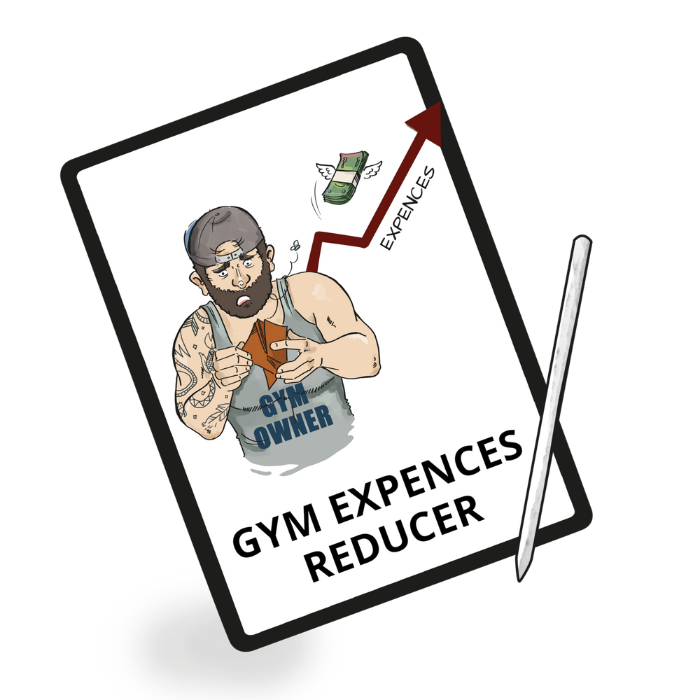 🚀 Free ebook!
Gym Expences Reducer
This free ebook will help you regain control of your business expences!
*Only for gym owners!
📥 Download
---
What are the advantages of a club management system?
A good club management system includes a valuable set of tools that are an essential part of supporting staff and resulting in customer satisfaction. The software enables most aspects of the business to be organised in one place and most tasks to be performed on a computer, tablet or from a mobile phone. Therefore, implementing an electronic system in your gym, academy, box, studio or fitness club is one of the best ways to streamline its entire operation. Like project management tools for handling work tasks and processes, a fitness club management system is a worthy successor to the paper-based form of management, which was a common cause of information loss and documentation errors.

Managing your club's operational tasks in one central location offers convenience, time saving and efficiency that results in a profitable business. Available systems allow you to process payments, schedule classes, control attendance, book classes, generate and analyse reports without the need for other software. An efficient system will bring your day-to-day administrative duties to a minimum, automating tasks that it can perform without your involvement.
WodGuru is a recommended club management system.
You get an unlimited trial! Register your account and see how WodGuru can help you run your club.
---
Comprehensive software for your fitness club and business operations
Club members management
A system that facilitates the management of the entire database of club members and potential customers is an essential element of running a club. Thanks to its functionality, the software provides integrated solutions to improve the entire process of club operations, regardless of the number of members. Thanks to its in-built communication functions and integration with, for example, an SMS gateway, it will help you to take action: from searching for potential club customers, making sales using e-mail and SMS campaigns, to the effective process of acquiring new members.
The ability to separate the accounts of those interested in the club – from those who are full members – opens the way for cooperators to run an effective advertising campaign. The available option to view user accounts (statistics, attendance, selected offers, products and passes) creates an effective marketing strategy. Intelligent monitoring and control of club members' activities ensures that no lead is missed in the company's marketing strategy, and your activities minimise the risk of potential, promising customers being overlooked.
Management of the accounts of coworkers and their permissions
By using a system that includes tools to control and allocate appropriate club access to co-workers, the owner can effectively help the team work more efficiently. The software provides functionalities to quickly solve problems in staff work planning, assignment of duties, support in internal communication and associate relations. It can therefore be used instead of dedicated communication tools like Slack or alternatives. In addition to this, the right club management system increases the productivity of all co-workers, resulting in a happier team and more satisfied club members.
---
Additional services: memberships management, marketing, reports, online payments, mobile app
Memberships management
There is no doubt that passes affect the efficiency and dynamics of your club. However, managing passes skilfully to meet the expectations of all members is extremely difficult and time-consuming. Automating day-to-day processes by providing customers with an easy way to view all class schedules and manage the information themselves can save the employees many hours of work, allowing them to focus their efforts on other, equally important aspects of the business, and rate you better in pulse surveys.
The club management system also provides a guarantee of complete security for all members, ensuring that private information can be organised and managed at will, such as setting personal goals, tasks, tracking progress, monitoring achievements, etc. The effective administration of the offer with the use of passes, not only helps to get to know the members of the club better and the level of interest in particular activities, but, above all, influences the club members' motivation, commitment and desire to continue their activities.
Online payments
E-billing provides a more cost-effective and efficient way of receiving monthly membership fees. Any quality sports club management system will offer web-based payments, which enable the automatic management of recurring payments of all club members. In addition, some of the software available on the market guarantees the processing of payments via the website and the inclusion of fees for late payment as well.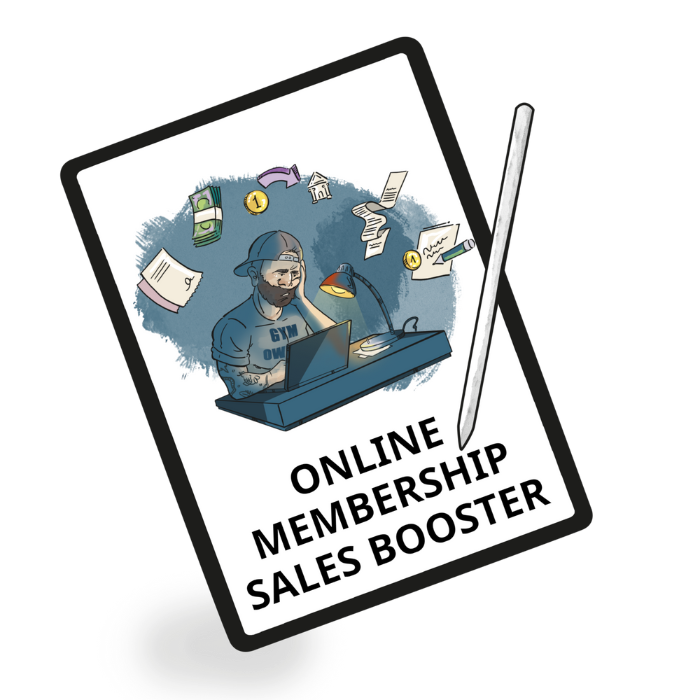 🚀 Free ebook!
Online Membership Sales Booster
This free ebook will allow your gym members to buy and extend their memberships on their own at any time of the day or night, and it will save you a lot of time that you spend on manual invoicing!
*Only for gym owners!
📥 Download
---
Profound reports
An effective sports club management system enables their owners to create profound reports and summaries based on data from the system. You can monitor and review a range of important rates such as revenue, prospect conversion, sales, club members' choices, attendance and staff costs. Coaches also have the ability to generate reports on the performance of each club member. In addition, they have the authority to share progress charts and tips with members. These possibilities provide a strong motivational element for success and continued club membership.
---
What do you need to consider when you want to try to choose the right system to manage your club?
Choosing the right system to manage a sports club is not an easy decision. It is worth considering a number of criteria, the fulfilment of which constitutes an unquestionable advantage of a given system.
---
Integration of activities at all levels of club management
System access
There are still systems on the market that you install on your computer. This should be definitely avoided! This form of fitness club management software has many more disadvantages than advantages, for example:
Access to the system only from the computer on which the software is installed,
Problem with the computer – lack of a working system and potential loss of data,
Change of computer – installation of the system from scratch,
No access to external class enrolment and registration for new club members.
Your system should be hosted in the cloud, where one can, e.g., monitor logs, as this offers huge opportunities. Taking WodGuru as an example:
Access from a browser, from any device connected to the Internet (phone, tablet, laptop, TV),
Access from any location with Internet access,
Mobile application for you and for club members,
Possibility to integrate the system into your website,
Data protection – data is encrypted and secured in the cloud.
Mobile app
Both club members and the club owner are individuals who use mobile apps in the execution of their daily duties. Without a doubt, the mobile app is an ever-growing trend among customers. Your club should satisfy their expectations, resulting in a stronger relationship between you and your members. Information and features such as online bookings, available passes, current offers and workout tracking should be easily accessible on all devices. Some systems are also able to provide a custom, dedicated mobile app. They then tailor its design to the club in question (icon, signature). By downloading the app to an Android or iOS mobile phone, customers are able to make contact directly with their club's staff. This option is a positive aspect of club management, significantly increasing club members' sense of satisfaction, comfort and loyalty.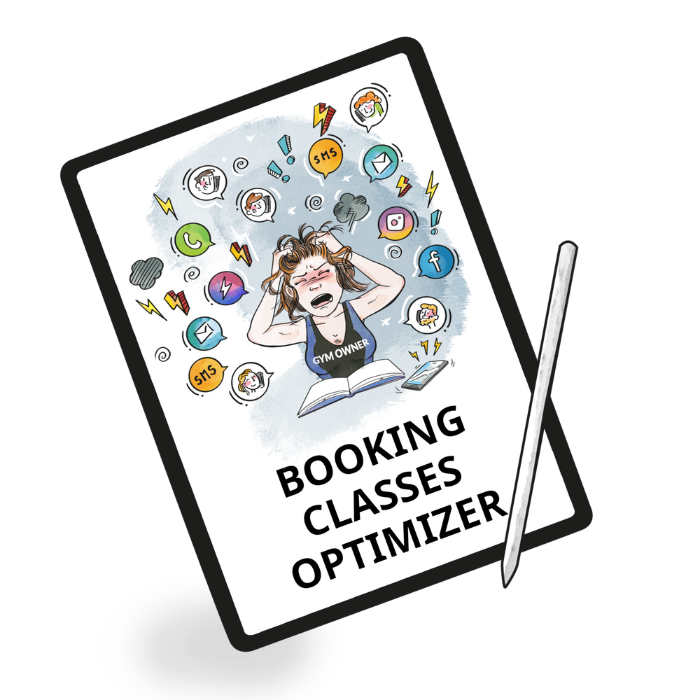 🚀 Free ebook!
Booking Classes Optimizer
This free ebook will help you get back all the time you spend on signing up your gym members for classes every day.
*Only for gym owners!
📥 Download
---
Website / Facebook integration
An important aspect of choosing a system is to pay attention to whether the software includes in its offer an integration of the system with the club's website. The club management system should represent the company's brand, providing customers with the same look and style as the website. This consistency gives a sense of security and freedom of use to both club members and everyone working with the club. Combining the class schedule, the registration form with the purchase of a pass, or the form for the first free class with the website ensures effective management of the club's activities. Most system providers offer full integration and branded web tools that work with all, most popular online platforms.
---
Expectations of co-workers and club members
Customer service standard
Your facility needs a management system that provides assistance from the software implementation process to ongoing technical support. Quick response in solving problems that arise is the basis of proper customer service. This should include functionalities such as an online section (FAQ, blog, MS, tutorial videos), e-mail and technical support.
Identifying your club's needs
Most of the sports facility management systems available on the market guarantee the basic functionality needed to make it work. While choosing software, pay attention to the standard of the offer. Some providers may have a stronger spectrum of activities than competing systems (e.g. marketing, mobility, community engagement, additional functions). Before beginning your search for the best software, it is essential to be clear about your needs, short- and long-term goals, and highlight areas of activity that need improvement. Each software is unique and innovative in its own way. Most have a proprietary user interface, specialised applications and features that attract customers by their usability and design. By taking the time to identify what you want to improve and optimise in your operations, you will be ready to choose a system tailored to your needs.
Profits – Bottom line
Growing social trends related to the promotion of healthy lifestyles and physical activity are causing a rapid increase in competitive sports clubs. Using a club management system is an effective way of improving marketing activities. You can then focus on business development and a high level of customer service. We encourage you to access free trial versions of the systems or take advantage of the opportunity to demonstrate the operation of the software with its supplier. This allows you to get specific answers regarding your company's needs and expectations.
Choosing the best system will certainly require commitment and a significant amount of time spent talking to different suppliers. The effort dedicated will be compensated in a very short time by the support of the system in the operation of the club. Club management software is one of the main factors leading to the success of a company.
WodGuru is a recommended club management system.
You get an unlimited trial! Register your account and see how WodGuru can help you run your club.