Effective Club Member Software: 10 Key Features
There are many different types of gym management software, but choosing the right one is critical to all business processes.
Well-chosen software will speed up your activities, make them more effective, and allow for the necessary integrations. It also deals with check-ins, billing and gym client management.
So, the question might be…
What are the features that club member software really needs to have?
When looking for a club member software, there are some questions it's good to answer. They will help you verify if it has key features.
Let's look at them.
#1 Does the software allow you to create workflows?
Before investing in a club management software solution, check if it automates repetitive tasks. For example, sending reminders about special offers, upcoming events, or emails to your club members about online booking changes can be easily sent automatically.
Also, automated signups for classes are an excellent way to save time and effort.
#2 Can you connect with your customers via a mobile app?
Nowadays, hardly anyone can imagine leaving home without a smartphone. Thanks to it, you're always in touch, and nothing can slip your mind. When it comes to membership management software, you can check membership status, look at comprehensive reports, or check who will attend your pilates class – all can be done with an app.
That's why you need to check if membership tracking software makes it possible to use a club app.
An important aspect is its customization – ensure that you can add your logo and brand name. It might work like a little reminder for your club members – they will think about you each time they look at the screen.
💪🏻 That's why a mobile app solution for your sports club is a must-have.
#3 Are online payments available?
Paying online has become a part of our reality, so having such a possibility in your club is something worth considering. Online payment:
may help you not to miss out on sales opportunities
is quick and easy
provides payment confirmations for any type of club
might increase revenue
Make sure that a cloud-based business management solution allows users to pay online. Doing so, you are not left behind with club membership management.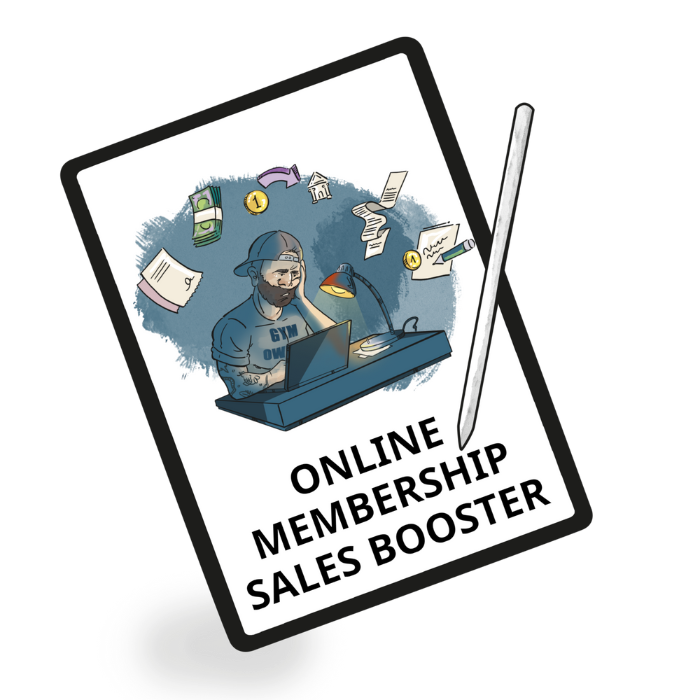 🚀 Free ebook!
Online Membership Sales Booster
This free ebook will allow your gym members to buy and extend their memberships on their own at any time of the day or night, and it will save you a lot of time that you spend on manual invoicing!
*Only for gym owners!
📥 Download
---
#4 How can gym members monitor their progress?
Check if the club acceleration platform lets gym goers track their progress. For example, some software makes monitoring workout performance history easy using an online app. For some gym attendees, it's a big deal to monitor their achievements.
#5 Is the software integrated with your website?
Cloud-based business management solutions usually integrate with websites. When your website is connected to the software, you can easily update your schedule and share it with your website visitors.
Such actions streamline the online registration process no longer than just a few seconds. Another advantage is eliminating typos when saving new personal data.
What's more, you can share the schedule of classes on social media, increasing the display and, thus, the number of potential new customers.
#6 How can personal trainers track class performance?
A club management software platform should make it possible to track class performance. It's one of the key features. Look for a solution that will let you see who attends the training. This way, you can determine the classes that are most popular and less attended.
With this information, you can figure out what needs improvements – scheduling, place, or maybe there is simply not enough interest in this type of class.
#7 Does it support reception workflow?
Reception work might be repetitive, sometimes time-consuming, and tiring. That's why it's vital to figure out how the club software of your choice helps streamline reception workflow. Look for a platform that supports you with sending invoices, reading gym cards, selling memberships, or anything you find useful.
#8 Does the software provides a CRM system?
Let the software be like your personal assistant. With a small business CRM system, you can easily communicate with your clients, sending them personalized messages and email campaigns. As such, you will likely improve efficiency with a CRM platform. Such a system makes member management quick and simple.
#9 Is customer service responsive?
While researching software solutions for your fitness club, check out the reviews and learn about users' experience with customer service. It is vital since you will be dealing with totally new software.
That's why a responsive and helpful support team is as precious as gold – literally!
With a quick response, you can implement changes faster, not waiting for someone to reach out and waste your time.
#10 Does it provide membership management?
Maybe it seems like a basic requirement, but still worth mentioning. Check out how to manage memberships and the interface. With an intuitive design and easy membership management, you'll be able to handle your tasks much faster and more efficiently.
If you don't know what club member management system to choose, we are glad to help you. Check out WodGuru!
What is WodGuru?
WodGuru is a cloud-based software recommended for sports clubs, martial arts studios, fitness studios, and other businesses related to the sport. It's good for midsize businesses and helps with client management. One of its critical goals is task club automation which saves time.
This club management software has an intuitive interface and provides advanced features that work with a few clicks. It helps you create revenue reports and deal with daily admin tasks. In addition,
WodGuru offers a mobile application that ensures you never miss a thing, thanks to the high availability of data.
So let's check what specific functions the all-in-one solution will provide you.
WodGuru features and benefits that will simplify your life
Each tool's functions should meet your expectations despite the type of tool. However, even if the software has a good reputation, it may not always be appropriate for you. So, let's look at the list of the essential features of WodGuru.
01 Save plenty of time with automated tasks
Automation is a feature that improves your operations, such as administrative tasks. You act faster and more efficiently without worrying about manual tasks. For example, WodGuru provides:
online booking
email marketing tools
payment reminders
client birthday wishes
signup automation
Keep your customers informed about upcoming events, special offers, or changes to class times.
02 Build client relationships with mobile app
Also, your customers can take advantage of the mobile app and use services like check-in, easy event registration, and more. App customization has an intuitive user interface. For example, you can choose the logo and brand name, meaning that WodGuru's name won't appear. As a result, your brand will gain more independence and stand out in online communities.
💪🏻 Also, with the WodGuru app, clients can show their QR code, so they don't need to bring plastic cards.
03 Increase revenue with online payments
Online payment has been one of the most popular choices in recent years. With WodGuru, your clients can easily buy online membership to fitness studios and come to class anytime after signing up.
This cloud-based club management solution offers many payment providers (DotPay, Przelewy24, Paynow, Espago), so it's convenient for users to pay not using cash. And some good news here – All the payment methods can be used simultaneously.
💪🏻 Online payments are hassle-free for users of WodGuru software. They can prolong their membership with just a few clicks.
Also, documents related to the payment status and confirmation will appear in the transaction history in case of any problems.
04 Motivate your gym members with workout history
Your gym members can keep track of their progress with WodGuru software. Thanks to workout history, they'll know how many times a week they were active at the gym. Also, it may boost their motivation!
If you record the journey with sport, you can see how many loyal customers you have managed to get. As you can see, WodGuru measures progress and keep gym lovers motivated.
05 Stay in touch with clients with efficient communication
Customer satisfaction is the key to well prospering business. They're your source of income, popularity, and brand awareness. So, client engagement is crucial here.
Using WodGuru, you can achieve that through efficient communication. For example, information about the gym, classes are up-to-date, or membership types. If club owners inform the studio user well, your chances of their appearing are higher in an upcoming class. It can all be possible thanks to the website integration and mobile app. Then, you can e.g. run online polls to see what's the most effective.
06 Streamline your work with integrations
WodGuru allows integrating your WWW site with the software. Such a solution is a time-saver because you can change the time of your crossfit classes on the platform, and it's automatically updated on your website.
Also, WodGuru club software connects you with card readers. After entering your gym, the profile of a gym member will display on the receptionist's computer screen.
07 Manage club members with Customer Relationship Management (CRM)
Being up to date helps to provide a better customer experience. WodGuru is a tool that combines CRM functions. With this software, you can:
create personalized email campaigns
send SMSes
handle daily admin tasks
As a result, you will improve the quality of content and ensure its uniqueness. Also, you can quickly update member activity and status.
Additionally, the CRM system will allow you to be up to date and remind you of any birthday discounts, special offers, or limited promotions. Create comprehensive reports and follow your progress in revenue streams.
08 Keep track of your classes with an attendance list
It includes attendance tracking and class performance. The list shows what activities your members enjoy the most. You can easily control attendance and how many members have resigned from their current subscriptions.
In addition, members will get information about postponed or canceled classes or even if the teacher changes. Such actions will improve client experience and trust in the brand and increase your credibility.
09 Make reception duties hassle-free with WodGuru
The reception-dedicated feature streamlines accounting solutions and makes office work more efficient. With WodGuru, admin tasks have never been more accessible.
You can:
sell memberships quickly and intuitively
issue invoices
run storage
integrate with gym card readers
offers for discount codes
It will help you develop a gym recommendation system and evaluate your business over time.
10 Make club membership management easy with a great customer support
Responsive support is essential for gym owners to be on top of gym management. Service is important to you and your users. You need to know that in case of system problems, you have a person to turn to and fix the problem quickly.
What if fitness professionals have difficulty accessing the application? They will soon get in touch with somebody representing the help and get the goal set. That's why WodGuru's customer support is always at your disposal.
Club member software – wrapped up
Effective club member software should publish content with training updates, deal with payment processing and enable administrative task management. Summing up, it should have many advanced features.
The membership software must integrate with your website. As a result, personal trainer management is more effective, and monitoring will provide relevant information. In addition, details of the people who show up at boutique gyms are readily available while providing security features.
Of course, it would be best if the platform had a mobile application, so you could always check on your fitness studio. The right software makes your work more productive and efficient but, most importantly, saves time and energy for other business decisions.
Make your event management easier. So, don't wait to check out WodGuru! It's an excellent cloud-based fitness management platform for small fitness studios, midsize businesses, and big sports brands.