Managing a Modern Gym: 15+ Tips for Success
Managing a gym that offers modern services and amenities requires a multi-faceted approach. How to tackle it when you're just starting out? Here are some tips:
Establish a Clear Mission and Vision for Your Gym
Crafting a purposeful mission statement can help you determine what your gym stands for, attract like-minded customers, and keep your team motivated. When defining your mission and vision, consider the type of people you want to serve and prioritize customer service as a key focus. Make sure that every member of your staff understands the significance of these core values.
Invest in High-Quality Equipment to Provide the Best Workout Experience
Having access to superior equipment is paramount when it comes to running a successful gym. Investing in durable products with optimal safety standards will ensure that clients have access to quality workout options. Replace or upgrade existing machines at regular intervals for maximum performance.
Focus on Creating an Engaging Environment With Music, Visuals, and Other Features
The overall ambience of any fitness center should be inviting yet professional. Consider adding features such as inviting music, upbeat images, comfortable temperature control systems, energy-boosting aromas, etc., to set the tone for an enjoyable workout experience.
Use Technology Wisely: Employ Apps, Software, or Tools
Utilizing technology can make operations smoother and more efficient in any gym setting. Leverage tools such as chatbots for customer service inquiries or automated membership dues reminders; use email or phone validation services whenever a new customer registers to avoid incorrect contact information; use online booking systems that allow customers to reserve their slots in advance; consider investing in hardware automation such as digital lockers or smart exercise machines if possible; use interactive voice response to automate the way customers get in touch with your brand; employ video streaming services so members can work out at home with visual guidance from instructors; look into adopting software with powerful analytics capabilities so you can gain valuable insights about customer behavior–these are just some of the many innovative possibilities available today.
Manage Your Membership Plans Carefully
Effective management of your membership plans is essential for increasing your gym membership numbers and your long term success. Offer different tiers – ranging from basic packages to premium offerings – based on individual needs and preferences while keeping service quality consistent across all levels. Make sure existing customers are aware of all promotions or discounts through regular emails or notifications; this not only encourages loyalty but also helps you connect with new prospects by word-of-mouth marketing.
Utilize Social Media Platforms to Promote Your Gym
Social media is a powerful tool when it comes to building awareness and promoting your gym. Utilize platforms such as Instagram, Twitter, Facebook, or YouTube to showcase your facility and get the word out about your services. You can make use of creative content such as images, videos, or customer testimonials to drive engagement; you can also schedule your content, images, and videos using a social media scheduler. participate in relevant conversations with influencers in the industry; create a hashtag for your brand that customers can use for posting their own reviews and experiences – these are just some of the ways you can leverage social media to reach potential customers and keep existing members interested.
Develop Comprehensive Strategies for Customer Retention
Customer retention is one of the main goals of any business. You need to identify approaches that will incentivize customers to stick around. Invest time in collecting feedback from clients on a regular basis so you can recognize their needs ahead of time and address them quickly if necessary. Offering rewards or loyalty programs are great ways of fostering relationships with members–you could offer discounts on purchases, complimentary workout sessions, referral points etc., depending on what works best for you.
Cultivate a Culture of Safety in Your Gym
Creating an atmosphere of safety should be a top priority at all times when running a gym – it's important that clients feel secure while working out inside the premises. Make sure all equipment is properly maintained, cleaned regularly with disinfectants, and serviced at regular intervals; ensure adequate spacing between machines; display visual guidelines regarding proper posture and exercise techniques; provide sanitizers for use before/after workouts – these efforts should help protect the health and safety of everyone involved.
Offer Flexible Payment Options to Make it Easier For Customers
Having flexible payment options available helps make transactions smoother for customers as well as businesses alike. Look into different avenues such as accepting credit cards/debit cards through mobile devices (such as smartphones), offering cashless payments through alternative services (such as PayPal), allowing monthly installment plans etc., all tailored towards providing convenience for your clients.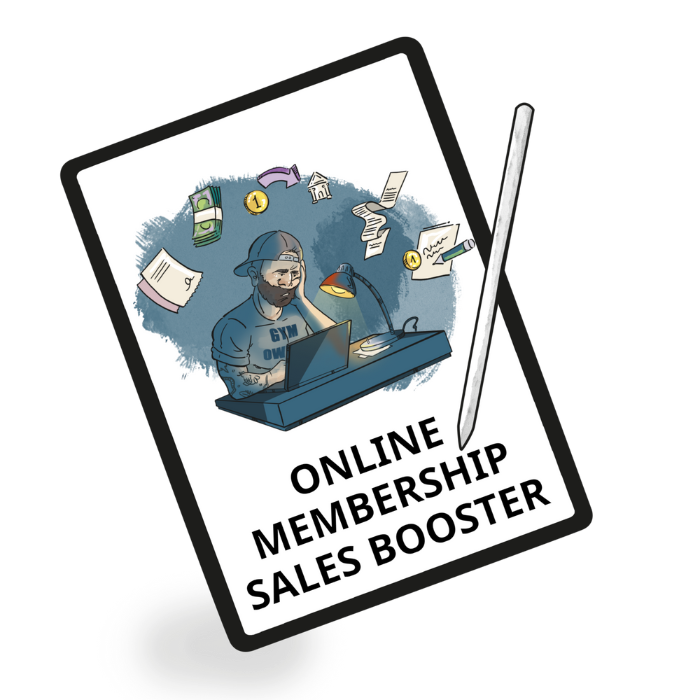 🚀 Free ebook!
Online Membership Sales Booster
This free ebook will allow your gym members to buy and extend their memberships on their own at any time of the day or night, and it will save you a lot of time that you spend on manual invoicing!
*Only for gym owners!
📥 Download
---
Encourage Employees to Attend Workshops Related to Fitness Instruction
Product knowledge is essential when it comes to staying competitive in any industry –this holds true even more so when dealing with fitness instruction due to ever-evolving trends related physical activities and exercise routines. Send your employees off to attend workshops on everything from personal training tips & tricks to teaching methods–even having basic knowledge on nutrition practices can have huge benefits in better serving customers' needs. Not only will this benefit them professionally but also give them greater confidence which they might pass onto others through their work ethics — leading ultimately towards improved customer satisfaction overall!
Implementing Online Booking Systems for Improved Resource Management
By implementing online booking systems, fitness centers can improve resource management by automating the reservation process. This can reduce the likelihood of errors in scheduling, payments and tracking facility availability. An online booking system also allows you to keep track of available facilities, manage payments and client details, all in one place. By creating a streamlined booking process, it can help to enhance customer experience and loyalty, with decreased risk of misunderstandings or miscommunication.
Thorough Research on the Local Market
Thorough research on the local market is essential when launching a fitness center. Gather demographic information, competition, and customers' preferences to tailor services to their specific needs. This helps fitness centers ensure they're providing essential services to their target market, which ultimately leads to financial growth and success. Comprehensive research will mitigate risks in opening a fitness center and will create a competitive edge against other similar businesses.
Educating Clients About Proper Nutritional Habits
Educating clients about the relationship between nutritional habits, physical fitness, and overall health will improve clients' knowledge and communication with fitness experts. Clients who adhere to proper dietary practices will achieve better results, reducing their risk of injury and other health complications. Providing nutrition education can establish credibility for the fitness center and will encourage repeat customers buying into the idea of living an overall healthy lifestyle.
Training Employees on Customer Service Skills
Providing customer service training to fitness center employees is integral to maintaining customer happiness and loyalty. Staff members who excel in customer service are more likely to retain clients, improve overall satisfaction and obtain new clients through referrals. Customer service training can consist of providing knowledge on operations, interpersonal communication, conflict resolution, and other customer service-focused skills.
Professional Cleaning Services for Hygiene Maintenance
It's crucial for fitness centers to maintain proper hygiene standards to decrease the spread of contagious illnesses among clients. Hiring reputable cleaning services to ensure that all equipment, locker rooms, and other high-touch areas are consistently sanitized to prevent contamination helps reduce the likelihood of illness spread. Implementing proper hygiene practices reassures customers of their safety and can improve overall satisfaction, leading to customer loyalty.
Efficient Digital Marketing Tools
To increase brand visibility and attract new customers, fitness centers should take advantage of digital marketing tools such as social media, email marketing, and paid advertising. By posting regular and optimized content such as affiliate marketing content across various platforms, fitness centers can maintain an online presence that will attract new leads and increase engagement with current clients, thereby improving customer retention. In addition, digital marketing tools enable fitness centers to target specific demographics for advertising, cater to the interests of current customers, and keep them updated on events and promotions.
In order to do proper market research for you gym, you'll need a proper tool to help you. Ahrefs, Moz, SEMrush or Mangools are all excellent choices.