How To Improve Member Management in Your Fitness Club?
There's a lot to think about when managing your fitness business—especially things related to members, finances, email marketing, reminders, client relations, and more. Even if you're the best at your job, sometimes there is so much to do that you can easily forget some essential aspects. But don't worry, it won't happen again. We have got you covered. Look at the solution – a member management platform for membership-based organizations.
Member management – what is it exactly?
Cloud-based business management, club member management system, membership management tool, or whatever you name it, is basically the same thing.
Member management is about taking care of customer relationships and collecting and managing detailed information about them.
For example, you can do this using software.
This kind of management allows you to gather data about your target audience and improve marketing activity. By doing this, you can attract more people to become members.
It also may help you gain financial stability and build your brand position in the market. Moreover, the software may help you with other activities, including:
administrative task management (rather than needing dedicated task management tools)
communication actions
detailed reporting (for instance, you can track participation of your martial arts studios or dropshipping materials for your business)
membership dues tracking
just to name a few.
So, its main aim is to enhance organization and eliminate any oversights.
But how can you know if you need member management? Let's see how to specify whether you need such help.
Why might you need member management in your fitness club?
#1 It's hard for you to build a community
Creating a fitness community might be challenging, especially if you take your first step into the sports world. If you can make your clients feel part of your sports club, you will increase the chances of their return. And that's how membership software may help you with!
What's more, you can count on a more significant number of interested people through the recommendations of regular customers. A sense of community supports the commitment of members. If your customers feel good and safe in the place you offer them, you can be sure they might return next time.
Good association management software will help you determine what works well in your fitness studio and what needs improvement. Communication with clients is the direction you need to follow to develop yourself and your business.
#2 You need to send notifications to your club members manually
You need to deal with many things when managing a fitness club, including reminders, emails and newsletters. Such activities increase the involvement of your members. Moreover, you should check some phishing statistics and ensure your emails are authenticated to provide secure experience for users.
However, automating these activities will save you much time. For example, imagine you are manually sending news to club members; it would take ages, right?
What if you replace it with a system that will reach all of your audience? Just a few clicks and you will get your clients notified. Just to give you a reference point – that's how email marketing tools work. Additionally, event planning can be stressful, but proper membership management products can make it easier.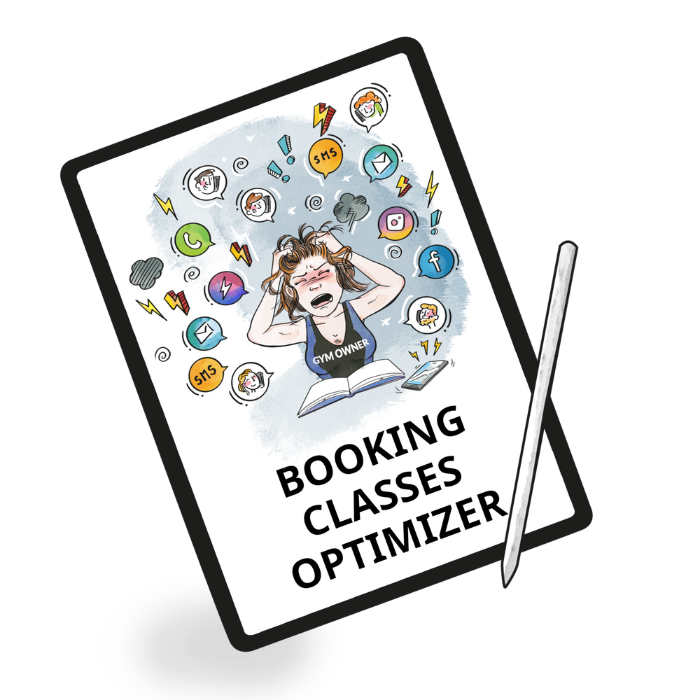 🚀 Free ebook!
Booking Classes Optimizer
This free ebook will help you get back all the time you spend on signing up your gym members for classes every day.
*Only for gym owners!
📥 Download
---
# 3 Your current membership software doesn't work for you
You may have tried member management software before. However, being in a rush (which happens very often when you have many clients) and using an unintuitive application won't allow you to use most of the membership software potential. Or the tool isn't suitable.
The right tool is the key to properly synchronizing your activities, marketing automation, and the success of the club organization. Think about what is bothering you with the current software or not working as it should.
The analysis will allow you to assess which areas remain neglected and which are developing.
And who knows, maybe you should consider switching the software to another one?
Even if the online platform seemed great initially, you might find some trouble after using it for a while.
#4 Members complain about poor communication
Members like to feel listened to and safe, especially where they spend their free time. So it's essential to consider user reviews and any concerns they share.
If members complain about not getting information about the change time of fitness classes, cloud-based membership management software may be an excellent choice.
With such a solution, they quickly check all the necessary announcements and changes if there are some.
In addition, as a manager, it can be challenging to view the members' perspectives. Your software must allow you to view your website in different ways.
Take into account any signals you're getting from them and ensure that customer service response on the website is sufficient.
#5 Your website is not integrated with the system
To create strong online communities, your website and system must have a strong integration. Otherwise, the following errors may appear. For example, you may update the website, but the other party won't receive information about the update. Cloud-based business management solutions help lower your operating costs and accelerate the impact of information.
On the other hand, if the systems don't work together, you'll struggle with constant errors and variations in data. Also, inconsistencies may confuse customers and make your business seem unprofessional.
#6 Your current software doesn't provide a mobile app
Nowadays, it's hard to believe when someone says hey, I got out of the house this morning without a phone. Smartphones allow you to be updated no matter where you are. Imagine if you get a concerning phone call.
To react as quickly as possible, you can access any member details like email address, make online payments, accept upcoming members' signups, and other business management tasks. The well-synchronized app solution enables you to do it with just a few clicks and offer other decent features.
So make sure that your cloud-based mambership mamanegent system delivers a mobile app for both club members and employees. To keep the employees connected, an employee communication app could be a great choice.
#7 The software that you are using isn't cloud-based
Recently, cloud-based software is becoming more and more popular. This technology lets you access software and information that are stored online rather than on your computer.
Thanks to this solution, you can be sure that you:
save many costs (see also the other ways of reducing costs of running a gym)
strengthen your data protection
defend against data loss through automatic updates
make event management much easier
enhance customer relationship management
Furthermore, cloud-based software increases employee collaboration and is easily accessible via mobile devices. Your business minimizes the loss of productivity in the event of failure.
Here are some more reasons why your gym needs management software.
Choose software for managing members in your club!
It's the right moment if you still haven't picked your membership management tool for your club. There are different types of software, and it can be confusing. However, if you're currently using a device that doesn't meet your expectations, we will give you tips on what to follow.
Figure out what works best for you
Let's start with the fact that even if the cloud-based membership management system seems perfect at first glance, collects good reviews, and is very popular – it doesn't mean it is your ideal match. You need to check in practice how it works.
It would be best if you customized the software to your organization's needs.
Do the research on the features
To choose membership software, point out the key features and those which may seem simply useless. Such research will help you to narrow down the options.
Check out its price
Finally, pay attention to the price of the cloud-based membership management software system of your choice. After all, no one wants to overpay for something that doesn't work correctly. Also, consider the pricing model – whether its a subscription-based pricing structure or maybe perpetual pricing. It's all up to you.
A careful analysis and comparison of the advantages and disadvantages will make your choice easier. However, if you still have doubts, we suggest looking at WodGuru, member management software for a fitness studio, gyms, midsize clubs, sport community organizations, and more.
Is WodGuru a powerful software for member management? Spoiler: IT IS!
WodGuru is a cloud-based membership management software developed for fitness clubs, yoga studios, affiliate gyms and other businesses related to sports.
It has a wide range of features and capabilities, such as an intuitive interface, task automation, necessary tools to track member dues, and more.
The cloud-based membership management solution offers a mobile application to quickly check the schedule, new signups and all critical information about club members.
WodGuru: key features for membership management
Among the many fearures of WodGuru, we have selected the ones that are most useful to you when managing your members.
So let's have a look at them.
The payment process is fast and easy
With WodGuru, you get a professional membership registration form and an explanation of how they will register. It's possible to pay online using the wallet system regardless of the user type. The software gives you an insight into the member's perspective.
Many membership types are available
Clients can choose from three membership types: member, guest, and subaccount, according to their preferences. What's more, you can connect applications with a multisport card. It increases the attractiveness of the offer for the members.
WodGuru's cloud-based management tools divide membership into two types: based on time or session.
There's an easy refund for missed classes
Wodguru transaction fees enable you to withdraw money immediately after signing up for selected classes or training. If the client misses the course, you may restore the session to the member's account with a few clicks.
Also, customers can defer payment to their next visit using the wallet option. It increases the chances that the client buys membership management.
You can manage membership with a few clicks
If a member resigns, you can easily suspend the client's membership, which you can later activate. Likewise, if a client signs up or cancels his attendance at a particular class, you will automatically see it in your schedule. So, track member status and stay updated.
Track the class attendance
In the case of group classes, you can use the attendance option, which will help you define to what extent the group is involved and assess the level of attendance.
These key features improve the efficiency and productivity of fitness-related community brands. There are also some other development tools for your business. If you want to know what they are, keep strolling.
WodGuru: more valuable features for your business
Good software should support professional associations' (like gyms) in daily activities and, what's more, speed them up and eliminate the chance of potential errors. And WodGuru will help you with all of these.
Let's look at some other features valuable for your fitness club.
Advanced Automation
No more worrying about forgetting some essential tasks. WodGuru will remind you about them. Moreover, it will do them for you; for example, marketing, registration, payments, and even sales activities.
Mobile App
The mobile application can help spread your business wings. This time, nothing will escape your attention. Stay up-to-date and check specific information as needed.
Additionally, you can constantly contact your colleagues in case of a problem. Use content management and configure the name and icon of the application or create additional positions. If in doubt, you can quickly check your transaction history and training system.
All-in-one CRM
This membership management software works like a real CRM in its functions. You will improve the quality of your content and create personalized email campaigns that you can use to promote. In addition, business management is no longer complex; you will handle it only with a few clicks.
Website Integration
This software integrates with your website and allows visitors to see any updates. Such integration streamlines many processes, making your member-based organization and operations more flexible. As a result, consistency between the website and other systems should work quickly and flawlessly.
Sales & Payments
Customer service and reception are now more efficient or more accessible. You and your employees will quickly invoice and run the storage. This gym membership management software creates discount codes and integrates them with gym card readers. Also, to increase the involvement of members, develop a recommendation system for your fitness club. Financial reporting has never been easier.
Software pricing
The price for the software is based on the number of your employees. For example, for 125 participants, you pay €99 per month. After that, prices start at €0.79 per member.
You can quickly check the software for the first month for free. With this option, it is possible to thoroughly analyze the WodGuru functions or (maybe) compare them with the current tool to be sure.
After the first month, you will be able to find out if WodGuru is suitable for you. Then, consider subscription pricing and decide.
Make member management a breeze with WodGuru.
It is your chance to make your membership management as effective and productive as possible. You don't have to worry about forgetting your most meaningful tasks.
Automating your activities and integrating systems with the website make your audience involved. As a result, members will feel safe and understood through an appropriate level of communication.
So, in a nutshell…
WodGuru is an all-in-one solution that enables you to spread wings, save time and, most importantly, better plan and manage clients and employees.
With the help of its mobile application, you can:
increase your mobility
choose customizable reporting
approve all payments by credit cards and more automatically
It's a great solution regardless of whether you are the owner of a midsize business, a larger organization, or maybe a member-based nonprofit organization related to sports.
Sign up for a free trial and enjoy a configurable, cloud-based software solution with advanced features. 💪🏻