Pole Dance Studio: 7 Brilliant Ideas for Making the Most of It
Pole dance popularity has skyrocketed, and so has the industry's competitiveness. Staying on top of the latest trends and continuously thinking outside the box is a necessity for the success of every business (and the fitness industry is no exception here). But how to manage a pole dance studio effectively? Let us show you how!
Here are seven brilliant ideas to make the most of your pole dance studio. No matter if you're a seasoned pro or just starting out – tweaking your place up is always worth the effort.
Let's get started.
#1 Make your pole dance studio's décor and design stand out
Due to the growing popularity of pole dancing, a studio's appearance and vibe are also becoming a thing.
Take a look at why the design of the pole fitness studio matters and how to make it a visually appealing space. 👇
✅ It's better to concentrate on the performance
Besides, clear space = clear mind. Have you ever experienced being distracted by the surroundings before getting something done? If yes, you can probably imagine how vital it is to have the pole dance studio neat, clear, and simply attractive.
Pole dance requires a lot of physical strength to maintain the proper posture and be well-balanced. And not only! Except for a strong body, focus plays a role. Here's why an appealing design might help – it makes it easier to concentrate.
✅ It might be an excellent complementary element of your brand's identity
Try to create a visually stunning atmosphere by incorporating decor elements that align with your studio's brand and image.
✨ It gives a sense that everything is well put together. Your logo, app, marketing materials, and décor – they can all match! And as you know, the way the studio looks may help your students in their pole dance efforts.
✨ It makes you look professional. And that is something businesses should strive for (or at least should).
So, it's a win-win situation for you and your studio members.
✅ It motivates and entertains
Make your place fun! Use lighting and color schemes that create a welcoming and vibrant environment. It really goes along with creativity and enjoyment.
Bright, fluorescent lights might be practical, but they won't do much to inspire creativity and enjoyment. Check out how lightning affects mood.
💡 Rather, opt for warm, cozy lighting that creates a relaxing and inviting space. You can even add some fun visual effects, like colorful LED strips, to create a playful atmosphere that gets you in the mood to dance!
Moreover, how you arrange the studio makes a difference. Make the most of the available space. Consider including professional dance floors, mirrors, and other essential equipment. Studio members will definitely appreciate it.
✅ It enhances students' experience
Quality equipment may be taken into account when it comes to design and setup. If you're ahead of arranging the studio, choose high-quality poles, comfort leggings, crash mats, and grip aids.
You'll surely find something that is both functional and eye-catching among the pole dancing equipment available.
#2 Plan and organize outstanding pole dance classes and programs
It might sound very basic, but pole dancing classes and programs might be something that attracts the most! And here is what you can do to make the pole experience even better.
➡️ Come up with a wide variety of pole classes
We all know that finding time for ourselves can be a real challenge, especially when juggling work, family, and other obligations. But reserving some time for a fun and engaging activity like pole dancing is exactly what our bodies need!
Review your weekly schedule and make sure that everybody can find something interesting. Offer a variety of classes (online classes as well, because why not!?) that appeal to different skill and fitness levels and interests. It means beginner, intermediate, and advanced levels, and specialized classes like pole fitness, pole tricks, and exotic pole dance.
💡 Don't be afraid to mix things up from week to week to keep the class schedule fresh and exciting! Include private lessons in the schedule for those who need more attention.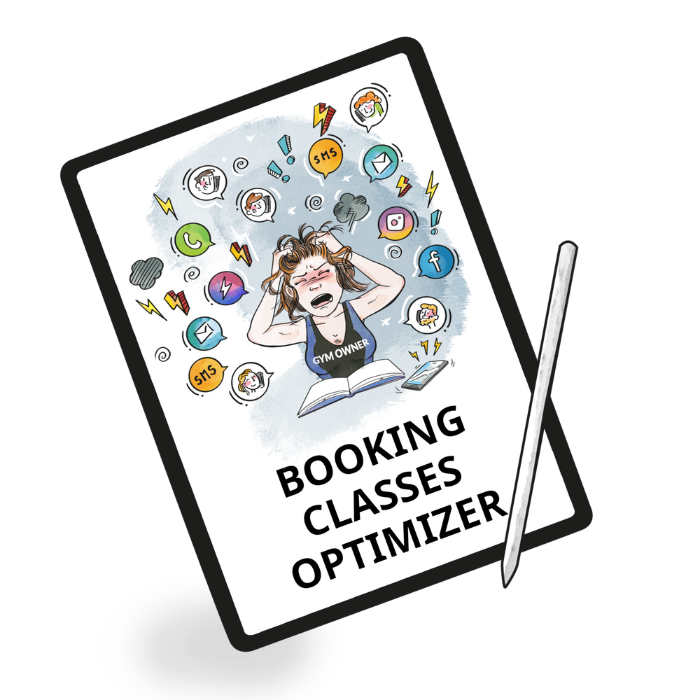 🚀 Free ebook!
Booking Classes Optimizer
This free ebook will help you get back all the time you spend on signing up your gym members for classes every day.
*Only for gym owners!
📥 Download
---
➡️ Organize themed classes
Who says pole dancing has to be a solo activity?
Organizing themed classes like pole dance parties or bachelorette parties will likely attract groups of people and add a little extra fun to your studio!
Pole dance parties are perfect for birthdays, girls' nights out, or any other special occasion. These classes can be customized to fit the group's needs and skill levels, with options ranging from a fun and flirty exercise format to a more advanced pole fitness workout.
On top of that, with music and party favors, it's sure to be a memorable class experience for everyone involved!
➡️ Build loyalty and recommendation programs
It's no secret that we all love to feel appreciated and valued. And you can appreciate your students with a loyalty or recommendation program. Moreover, keeping pole dancers engaged through these programs is an excellent way to invite them back!
Discounted rates for regular participants might encourage students to attend more classes as well. For example, if you offer a discount for a certain number of classes taken in a month or year, you can motivate and inspire students to continue to work on their skills.
But why stop at discounts?
Feel free to reward regular attendance as you like. And as for the rewards, the sky is the limit. You can offer free classes, merchandise, or private sessions with amazing instructors and pole teachers. And what's best, it boosts students' excitement and anticipation.
One effective tool to help you develop a recommendation program is WodGuru – a membership software that allows for:
tracking attendance,
managing memberships,
offering members a reward for recommending your pole fitness studio,
but the feature list does not end here.
WodGuru is like your personal assistant who sends personalized messages, issues invoices and helps you sell products and memberships.
Sounds great, doesn't it?
#3 Get your pole dance studio noticed on social media
Let's get social! Your promotion strategy must include social media activity. It's such a powerful means of communication and promotion, so it would be a pity to ignore its potential. Following a social media calendar template can help organize your posting schedule. Here's what you can do:
📱 Use the same platform as your target audience
It wouldn't make any sense to be active on a platform where you cannot reach your target audience, right? Check platforms like Instagram, Facebook, and TikTok – you can probably find your prospect there.
Boost your business by following a social media calendar to promote your studio and classes, share photos and videos of customers, and showcase special events or promotions. And most importantly, have fun! Share your passion and knowledge with the world.
Don't hesitate to post educational content, for example:
top tips on improving members' handspring technique,
a tutorial on advanced choreography,
how to perfect a dance style,
new dance movements,
intermediate tricks,
and the list goes on! It will pay back.
🏋️ Collaborate with social media influencers
Social media influencers have become key players in the marketing world. They are followed by engaged and loyal fans who trust and value their opinions.
When an influencer shares info about a brand or product, their followers are interested and more likely to buy the goods.
💻 Engage your audience by running online contests or challenges
Because why not!? Connecting via social media brings tons of benefits. Challenging your followers or holding contests to interact with them is brilliant.
First things first, you build a relationship with your followers. And it's a necessary step toward boosting pole community engagement.
To put it simply, it's exciting. Contests can be anything: a photo or video challenge, a quiz, or a scavenger hunt, where participants have to find clues hidden across the multiple social media channels you manage.
If you're not into online contests, a live stream from a killer workout for pole dance enthusiasts (like arm exercises) or stretching sessions is worth a shot. Make sure the entire body moves.
#4 Let members show off their skills during pole dance competitions and shows
Challenge your pole dance members and organize competitions and shows for them. Unleash competitive spirit with these kinds of events:
Organize in-house competitions at your pole dance studio
This event may bring a little excitement, friendly competition, and a supportive environment to your pole dance studio. Additionally, it gathers the pole dancers' community together and showcases their talent and cool pole skills.
Besides, in-house competitions may inspire others to keep practicing. ✨
Don't make it too formal or high-pressure either. It's better to go for casual and lighthearted categories like "effective pole dance routine," "best use of props," or "new dance movement."
Participate in regional or national pole dance competitions
However, taking a step further is worth taking as well. If you feel like it, participate in more significant contests like regional or national ones. It may help you gain exposure and recognition in the industry.
It is an excellent opportunity to network and get to know other inspiring pole artists and up-and-coming stars from all around the world.
Host guest workshops or performances by professional pole dancers
Want to inspire your members and learn from the best in the business? If you said yes, you should also say yes to guest workshops or performances.
Along with engaging your current members, it might be a chance to attract new customers. If you decide to host such events, don't forget to include their promotion in your social media. Oh, wait! Did you know that with WodGuru, you can automatically send personalized communication email campaigns?
Maybe it's what you need to upgrade your pole dance studio.
#5 Plan exciting events and team-building activities for your employees
Taking care of your customer should be a top priority (sure thing), yet there is something just as important! And it's taking care of your staff.
Happy employees ➡️ inviting and positive atmosphere ➡️ boosted customer experience
So let's dive right in and learn what you can do to build a strong team.
1️⃣ Organize and participate in new teamwork activities
If you're tired of the same old team-building activities, you might find this idea interesting.
Why not switch things up and offer your employees an exciting experience and an amazing time? Incorporating pole dancing and fitness activities into your next team-building event will get everyone moving, laughing, and bonding in a completely new way.
And as a pole dance studio owner, participate in such activities as well!
2️⃣ Provide customized workshops or training sessions to help your team grow
Offering your employees extra training sessions and customized workshops may take your dance studio to the next level.
Whether it's learning new choreography techniques, exploring the latest trends in pole dance fitness, or communication skills training courses – your employee will appreciate it.
If you've got something on your mind that you want to tweak just a bit (communication, social media marketing skills, or others), don't hesitate and take advantage of educational opportunities.
3️⃣ Make teamwork activities a part of your schedule
By doing things together regularly, a company's culture enhances. A positive company culture makes all the difference to the success of a business. Why? Because it sets the tone for how employees interact with each other and with customers.
💡Come up with some team-building activities more than once a year.
#6 Maximize retail sales and merchandising opportunities
Take sales opportunities. It is another idea of making the most of your pole dance studio. Thanks to selling goods, you:
increase revenue,
promote your business,
and equip your members with high-quality clothing and accessories.
Thus, customers can represent and advocate for the studio both inside and outside the studio walls.
💡 Running a shop is a revenue booster during slow seasons. First, however, ensure everybody can find something interesting there. No matter if they're advanced students or just began learning the basics of pole dancing.
So, let's jump right into our ideas.
👉🏻 Offer branded merchandise
Have you ever walked out of a place and thought to yourself, "I wish I could take a piece of that experience home with me?" Well, it may be something that your studio members think too. Why not make it possible?
When you offer branded items like T-shirts, leggings, and accessories, you are not only promoting your studio but also giving your customers a physical reminder of their visit to your place.
👉🏻 Sell pole dance equipment
Make pole dancers' lives easier and develop a selection of the best-quality pole dance equipment. Consider selling it right in your studio.
Provide poles, grips, crash mats, and other great stuff you personally recommend and use in your classes. You save pole dancers plenty of time and earn extra income.
👉🏻 Partner with local businesses or other pole dance studios
Collaboration is one of the inseparable elements of the business world. And fitness industry is no different.
Partnering with local businesses or other studios can open doors for your place and offer your customers a wider range of options.
What are the results? ➡️ An increased customer base and more opportunities for people to learn and experience the art of pole dancing. Offering special deals or discounts will add value to your customers while generating more revenue. It's necessary to build strong relationships with other businesses in your community to thrive.
#7 Manage your pole dance studio with WodGuru
There's one more thing that you can do to make your studio work better. It's member management software! Let us introduce you to WodGuru.
It's an ideal solution for gyms, martial arts schools, pole dance studios, health clubs, and more!
WodGuru allows you to:
Automate tasks
Don't worry about marketing, sales, and reception activities. Automate signups, payments and streamline product selling.
Integrate with your website
You can quickly set a new class start time, and it will be updated in the app and website, ensuring nobody gets confused.
Manage memberships
Managing memberships might be a pleasure from now on! WodGuru works as a CRM (Customer Relationship Management) system. It lets you update activity and member status, register new members, and more!
It's just the beginning of WodGuru's capabilities. Check out how much it costs and what other users say about the software.
Manage your pole dance studio like a pro
Creating a welcoming environment, engaging your audience through social media, hosting events, offering branded merchandise, and more – there are so many ways to stand out in the crowded pole dance industry.
So, put both your pole dancer and business through the hoops! With these brilliant ideas, your pole dance studio will flourish and grow as never before.
And the cherry on top – reliable, budget-friendly membership management software. Sign up for free and join WodGuru!
What are you waiting for? Get spinning, get creative, and get the most out of your pole dance studio today!