Empower Your Fitness Studio with the Best Software for Gyms
Say goodbye to excel sheets and hello to efficiency – it's time to let the machines do the heavy lifting for you (in contrast to your gym members). Find out how software for gyms may empower your business and gymgoers.
Don't have in-depth industry knowledge yet? Unsure how the software will work for you?
Today you'll find eleven ways the software boosts your gym in general – its performance, customer service, members' experience, and more. And the list does not end here.
But before getting straight to the point, let's explain what modern gym management software actually is.
Software for gyms: What is it exactly?
It is a platform for anyone who wants to save time and money. The software can be accessed using a browser or mobile device. It includes features such as:
membership management
integrated payment processing
staff management
or even marketing tools
Kind of impressive, isn't it?
Comprehensive software for gyms and fitness studios is a game changer for any gym owners and managers.
Not only it makes your daily tasks easier, but it also encourages you to offer your members the best customer service.
All to bring client experience to the next level!
Only for fitness studios? Who can benefit from membership software?
Of course, it is not only for fitness studios. Any sport-related place might benefit from such a system. For example:
and these are only a few examples of places where gym business owners and fitness professionals gain from this all-in-one solution.
How does gym management software empower your fitness center?
The fitness industry is changing all the time. There are many technological novelties now, starting from automated marketing activities and ending with biometric access control for gyms.
If you want to run a modern gym, using robust fitness club software is a must, and here is why:
The all-in-one platform keeps up with information about class schedules.
Fitness studio software handles email marketing for you.
Membership management platform may raise prospects' interest in your sports center.
Gym management systems boost members' activity.
However, before investing in boutique gym software (or any other type), ensure customer service quality measures up.
Outstanding customer service is critical when using a new membership management tool. Gym owners will have access to knowledgeable people who are available to help them navigate the software and answer any questions.
OK, let's talk about how the software empowers your fitness studio 👇🏻
#1 It engages your members
How can fitness management software help you engage members? With its explosive mixture of innovative features! For instance, with a robust management tool, you might send email campaigns to your loyal customers about special offers or both on-site and virtual events.
On top of that, gym goers can track their sport activity via the software app. Make it even more motivating for them! How? When someone completes a certain number of workouts, offer them a discount on your custom products.
#2 It streamlines communication
Maintaining a close relationship with your members begins with keeping them informed and updated. Then, they'll feel valued and a part of your gym family. So, when choosing a system for your gym, choose one that makes communication a breeze.
Some gym software solutions often work like a CRM (Customer Relationship Management) system. Thus, you can send personalized emails, text messages, and announcements to your fitness studio customers in no time.
📰 Learn what gym member management software can offer you.
#3 It makes online booking and class scheduling a breeze
Online booking and scheduling classes are a must nowadays. No matter your studio type, your customer will appreciate signing up for classes via a mobile app or browser.
And thankfully, the booking process is fully automated with all-in-one gym software like WodGuru. Both members and staff find it super handy – with just a few clicks, it is possible to sign up or reschedule classes.
Besides that, when something changes (an instructor gets sick or the class times shift), the system automatically sends notifications to the participants in bulk.
Can you imagine sending a text every time such a thing happens? Luckily, you don't have to – software will handle all that for you.
#4 It lets you manage memberships like a pro
If you are a martial art schools owner or a gym assistant, managing memberships is your bread and butter.
Everything connected to membership management happens in the system, so having one that works without a hitch is fundamental.
Most of the processes run automatically, or it takes seconds to check the subscription status, process payments, or any other information. Also, changing the status or updating it is a matter of a click or two. You manage memberships like a pro, and your members are satisfied with the provided services.
#5 It tracks attendance and motivates gym-goers
Keeping an eye on attendance can give a motivation boost to gym-goers. Moreover, it is a great way for instructors to inspire their students to do their best. Trainers can take a supportive approach to students who have struggled to join classes or attend workouts.
On the other hand, when gym-goers have quick access to their schedules, they can check how many classes they did not manage to attend. Some may find it motivating.
Trainers, gym owners, and students both need to pay attention to attendance rates. And you may get it with fitness club management software!
#6 It helps with payment processing
Missed payments? Not anymore with gym software. Empower your fitness studio by setting up automatic banking payment processing so that payment never goes unpaid. Aside from that, it's possible to keep track of all payments made by your members and quickly issue refunds or handle disputes if any issues like these arise.
Software for a gym is like your private assistant – it does and remembers everything you don't.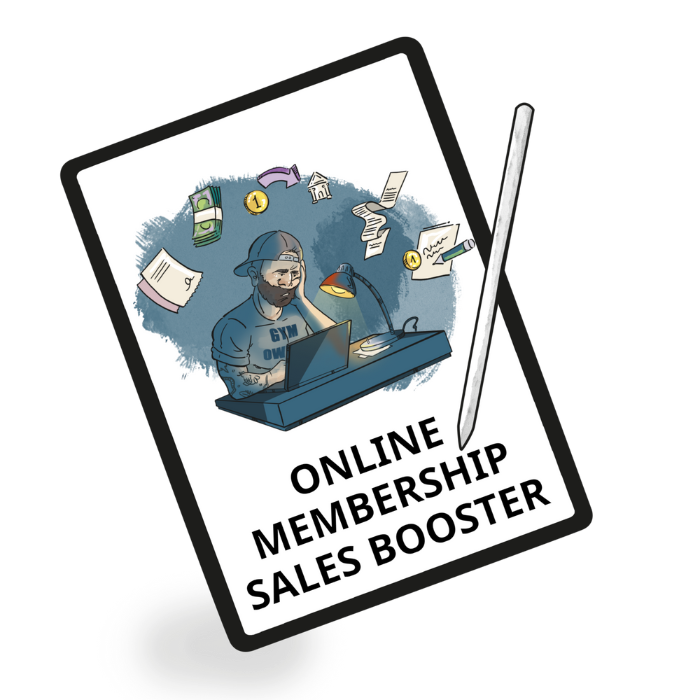 🚀 Free ebook!
Online Membership Sales Booster
This free ebook will allow your gym members to buy and extend their memberships on their own at any time of the day or night, and it will save you a lot of time that you spend on manual invoicing!
*Only for gym owners!
📥 Download
---
#7 It supports customer relationship management
Some pieces of software like WodGuru works like CRM system. Customer Relationship Management is based on managing interactions and relationships between gymgoers and your fitness center.
Monitoring and tracking personal information, membership details, and payment status and history – all are key components of a CRM system, and WodGuru does it all!
#8 It simplifies daily operations
Managing day-to-day tasks may be mundane, and sometimes it takes ages. But with solid software, it is just seconds.
For example, some gym tools are equipped with powerful automations, meaning that you don't even have to spend a minute doing the tasks you were used to.
Let's face it. No one wants to spend their precious time sorting through piles of paperwork or staring at spreadsheets for hours straight. Without the proper system, you may feel like you're drowning in a sea of tedium, even if you're organized.
#9 It makes your online presence stronger
Some pieces of software update the schedules on your website automatically. So you don't have to type the changes twice. That's incredibly helpful because you avoid mistakes that can mislead members.
Also, a management tool can be integrated with other platforms like social media, review sites, or your gym's website. Integration with the latter is highly valuable – members can register for classes in seconds.
#10 It gives you a bigger picture of the member retention life cycle
Management platform clues you on all the hot trends, like when your gym is attracting new members and when they're likely to quit. In addition, this data gives you a bigger picture of your member retention cycle. It is the journey your gym member go through from the moment they sign up to when they eventually leave.
Business-wise, tracking the retention cycle really pays off. It is much less challenging to figure out how to keep your members content and make them stay with you.
That way, you know what plays first fiddle in retaining clients. With this knowledge, you can change your gym to help retention rates.
#11 It boosts overall customer experience
Gym software is a terrific customer experience booster. And not only for customers, because it's a facilitator for gym assistants as well. It shortens your work time by a million! OK, maybe not a million, but certainly by half, which is already something that allows you to focus more on your customers. And that's one of the goals, right?
Customer retention may increase – why would clients go to a different gym when they are currently given excellent customer service? Exactly!
What gym membership management software to use? Quick reviews
In case you need a brief overview of gym management platforms, here is one for entrepreneurs (and not only).
If you're on the verge of looking for a software solution to operate and run your fitness center, WodGuru is your surefire path to success! Its feature-loaded offering is like a roadmap, navigating you to streamline processes and driving strong connections between you and your gym goers.
There's an app too, which means you're always on top of your game. No more losing track of membership management. And what about customer service? Top-notch 👌🏻 Don't take our word for it. Just check out the reviews.
You can schedule classes, create marketing campaigns, and handle memberships – all happen almost automatically, so you have more time to focus on training clients and keeping them motivated.
And what's great – it is the most affordable option of all the mentioned below.
✨Pros: online shop features, THE BEST customer support, app customization, wide range of CRM functionality, streamlined sales processes.
🚫Cons: If there're any concerns and struggles, contact our customer success team!
PushPress is club management software good for gym owners, but it's far from the best option. Managers use it for automating repetitive tasks such as tracking membership data, scheduling classes, and managing monthly billing.
Besides, PushPress provides both clients and instructors with an intuitive experience.
However, it can be difficult to configure, as many users report. On top of that, many fitness professionals find that it lacks some additional features, such as limited analytics.
✨Pros: user-friendly interface.
🚫 Cons: difficulties when deleting sessions after changing membership, lacking advanced reports, overwhelming with functionality, slow website loading, quite pricey.
GymMaster isn't bad, but it's not the top software for fitness businesses either. As ambitious business owners, you may want as much convenience and as many advanced features as possible.
And when subscribing to GymMaster, you get the basic capabilities but not much more. Sure, it's got support for membership fees and client tracking, but you should keep looking if it's not a good option.
✨Pros: multi-door access control.
🚫Cons: unintuitive interface, lack of flexible features, basic attendance tracking.
04 Zen Planner
Zen Planner is an okay option, but it might not be everyone's cup of tea. It has many fitness features (like scheduling and billing and other everyday task management) that gym owners might find useful.
As a bonus, it's easy to use and has a simple interface. However, some users might find that it lacks certain features or is not as customizable as they would like. Ultimately, it comes down to what you need and what you prefer.
✨Pros: comprehensive reports.
🚫Cons: confusing interface, lack of dashboard customization options.
Here is a handful of them!
We know that with so many options out there, it's easy to get overwhelmed. But the essential thing is choosing the best software for you.
And it does not necessarily mean it should be the best available option on the market. Instead, it means that it does its job effectively, you and your team like using it, and it's suitable for your budget.
✔️ Think twice about your goals and what's the most important for you
Are you running martial arts schools? Consider where your current system falls short – do you need more backup with admin tasks like processing payment collection and streamlining access management or would you like more marketing tools? Then, it's high time to change the solution you currently use.
✔️ Check the costs
Price is one of the most decisive factors when choosing a platform for your business. It's not about overspending, but you shouldn't compromise on significant features as well.
Check if there are free or paid plans or enterprise plan pricing – anything you might need in the future. In other words, just find software that fits your budget and adheres to your needs.
✔️ Read features' reviews
Speaking of reviews, looking up the opinion on features is crucial. You'll get firsthand information about software usability.

Here's a little list of what you should check beyond the basic functionality. Get user reviews on:
club automation capabilities,
apps (app for staff, client app, and workout app),
gym insights and key metrics provided by the software,
appointment scheduling (if your place is considered a health club),
marketing integrations,
real-time customer support (for example, live chat),
rating possibilities on personal training sessions,
UI class scheduling
and any other functionality and features you find relevant.
Start using the best software for gyms today!
Still confused about what software solution partner to use? We've got the best candidate of software for gyms that may boost your business performance!
WodGuru is designed to reduce your workload by automating tasks such as class scheduling, member billing, and daily workouts tracking. Thanks to this intuitive solution, you may spend less time on administrative tasks and more time doing what you love – helping your clients achieve their fitness goals.
Why not try WodGuru and see how it can simplify your life? Sign up for free and elevate gym management. 💪🏻